Physiotherapy & Sports Rehabilitation
The department of Physiotherapy & sports rehabilitation aims to focus on implementing evidence based treatment protocols in all the specialized units in the field of physiotherapy and sports rehabilitation units. Our department provides the necessary training to meet the total range of patient care responsibilities involved in preventing disabilities and promoting restoration of function to the physically impaired, including Musculoskeletal, Neuromuscular disorders that interfere with the physical function. We aim to provide individualized services that are created to the specific needs of the patient and are developed and provided by a team of highly qualified and experienced specialist physiotherapy clinicians. Physiotherapy clinicians use their knowledge and skill to assess and diagnose and implement a plan of care in their specific areas of practice. PARCO Institute of Medical Sciences is the only one of its kind to provide specialist service in the field of physiotherapy.
SCOPE OF SERVICES
Orthopaedic & Sports Physiotherapy
Neuro Physiotherapy & Movement Science
Cardio Respiratory Physiotherapy
Geriatrics Physiotherapy
General & Critical Care Physiotherapy
Paediatric Physiotherapy
Spine Manual Therapy
Spinal Decompression Therapy
Meet Our Experts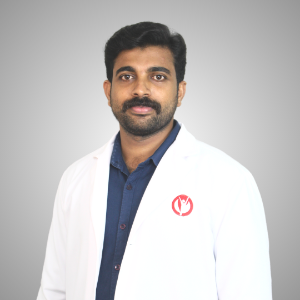 Shijin T T
BPT, MPT (Ortho & Sports), CDNT, CARP Musculoskeletal & Sports Physio
Senior Physiotherapist
Shijin T T is a Senior Physiotherapy Consultant (SPORTS). He completed his BPT and MPT from CIHS Thalassery (Kannur University). He has MPT in Musculo Skeletal Disorders and Sports Injuries. He worked as Head Physio at Gokulam
Kerala FC is an Indian professional football club and also He worked as Head Physio at Kerala Senior Football Team for Santosh Trophy, U16 Kerala Cricket Team, Physiotherapy HOD at Lopamudra Hospital Coorg Karnataka. He has
expertise in Sports injury rehab and Orthopaedic Rehabilitation Specialist, He did double Certification in Dry Needling in different Academy, K- TAPING, Sports On Field Injury management, Musculoskeletal Dysfunction.
EXPERTISE IN
Advanced Arthro Rehab Specialist
Advanced Orthopaedic Rehabilitation Specialist
Advance Sports Rehab Specialist
Advance Dry Needling Specialist
Advance K-TAPING Specialist
Specialist in Sports On Field Injury Management
Diagnosing musculoskeletal dysfunction and Sports Injuries