Audiology & Speech Therapy
The Department of Audiology and Speech therapy is a specialty dealing with disorders in hearing and communication skills. This department is equipped with modern audiometer, tympanogram and OAE machine. The department does speech evaluation and therapy for all needy patients. Also deals with identification, diagnosis and treatment of hearing, balance and auditory disorders of all ages. The department facilitate newborns hearing screening programme for the early identification of hearing loss.
SCOPE OF SERVICES
Pure tone Audiometry & Special Tests
Immittance audiometry
Speech audiometry
Otoacoustic emissions
Hearing aid trial and fitting
Speech assessment and therapy
Voice assessment and therapy
Meet Our Experts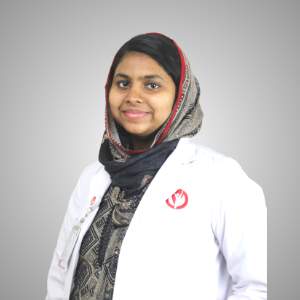 Rinusha
BASLP Audiologist and speech language pathologist
Rinusha is a Consultant Audiologist and speech language Pathologist. She is experienced and licensed Speech Language Pathologist worked at different settings like clinics, hospitals, and schools related to the field. Skilled in different Speech-Language-Hearing and Communication Disorders, their Assessment, Diagnosis, Intervention, counselling and rehabilitation. Expertise in providing patients with proper amplification devices and tinnitus management. She worked institutions like Claritone Hearing Centre and Ansar Hospital.
EXPERTISE IN
Hearing tests
Hearing aid services
Early intervention therapy
Speech and voice therapy
Counselling